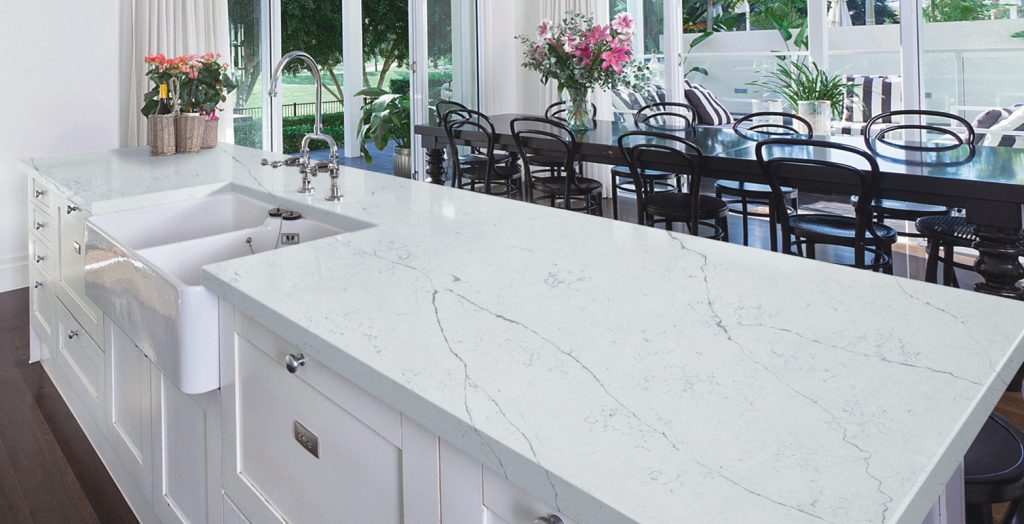 Quartz Countertops are gaining in popularity for kitchens and bathroom countertops.
Quartz Countertops use one of the hardest materials Quartz in combination with polymers to create the countertop surface. This materials primary advantages are ease of maintenance and due to its surface is void of cracks and fissures like natural stone. This means that the surface will not be susceptible to collecting particles and do not require sealing. This material is not as durable as natural stone countertops when exposed to heat and some chemicals due to the polymer portion of the surface. Simply be sure to use a trivot and clean up spills and you will love you quartz countertops. 
Maintenance: If you can consider applying a sealing application once per year maintenance then yes you have a little maintenance. Clean up spills when they happen, use a trivet for extremely hot surfaces. These items are suggestions not required.
Durability : (4) ****
Affordability : (2)  **
Appearance : (4) ****
Maintenance : (4)*****
ROI : (4) ****
Quartz has gained in popularity in the last 20 years.
Quartz Countertops have come more in line with some granite materials with the introduction of more manufacturers getting into the production of quartz countertops. This material has become more affordable and with the virtually maintenance free surface this material has become more popular. Also with the visual design of the material and the ability to produce materials based on demand. Also the ability to more control the design and mimic the look of high demand marble look of today's consumer. Quartz continues to grow in popularity.